If your home has been damaged by water, you may be wondering how to make a water damage claim on your home insurance. Water damage can cause extensive damage to your property and result in significant financial loss. If you've suffered water damage to your home, then it's important that you file an insurance claim with your house insurance company.
In this article, we'll cover the different types of claims that can be made and what information is required in order for your insurer to process it. So if you want to learn how to make a water damage claim on your home insurance, then keep reading.
Water Damage Claim Insurance
If your home has been damaged by a leaking water pipe or a washing machine connection, and sudden damage has been caused as a result, you probably need to claim on your home insurance policy. The technical term for a sudden leak or water pipe bursting is 'escape of water'. What your insurance company really means when they refer to an escape of water is damage caused by a water leak or burst pipe.
Don't assume that you have the correct amount of insurance cover for water damage caused by leaks. While most homeowners insurance policies may include cover, it's the level of insurance cover provided that should be of most interest to you. As experienced insurance assessors, PCLA have the skills and knowledge to make sure your claim is for the full amount.
What are water damage claim examples?
At PCLA we have managed many water damage insurance claims for our clients. While there are many potential causes the most common examples include:
Burst pipes or leaking joints
Faulty washing machines
Dishwashers not working properly
Leaks in the bathroom due to badly fitted showers or baths
Water tanks degrading over time
Central heating boilers breaking down
Blocked toilets
Radiators leaking following corrosion
If you suspect your problem is not listed above, please ask PCLA for leak detection advice.
How to avoid getting your water damage claim denied
You might think your insurance policy covers you for water leak damage, but your policy document might have exclusions. We recommend that you speak to one of our expert claims assessors who can help you understand the terms of your policy.
One of the benefits of working with an independent insurance claims assessor is they will know how to ensure your claim is made in full. You don't want any surprises down the road. For example, PCLA will send a qualified building surveyor to your home to conduct a free survey of the water damage. It's our job to make you aware of the full extent of the damage caused, some of which can't be detected without specialist leak detection equipment.
Your insurance company may send a loss adjuster to assess the damage caused and determine the cost of repairs. We will liaise with the loss adjuster on your behalf. PCLA will also compile all costs needed to reinstate your home. It's our job to present your claim to the loss adjuster and your insurance company in the most complete way. This will ensure your claim is managed as efficiently as possible.
Insurance Stats for water leaks
Did you know: Water leak damage is one of the most common causes of property damage claims, with insurers paying out an average of £1.8 million per day. Source: Association British Insurers.
87% of all 'escape of water' claims come from burst or leaking pipes.
Most leaks or burst pipes are discovered during the summer and autumn.
20% of leaks are discovered in the kitchen.
Have you experienced water leak damage and need to make a claim? Our promise is to get you the best possible settlement under the terms of your insurance policy. Call us today to find out how.
Water Damage Claims Tips
If you need to make a water leak damage claim on your home insurance, then make sure you follow these steps before contacting your insurance company.
Turn off the water
It might seem obvious, but to prevent further damage, turn off the main water supply for your home. You may even have to turn off the electric. If you are unsure what to do, please call PCLA on 028 9521 2991 and ask for help.
Take advantage of our free survey
Arrange your free survey today. We usually call out within 24 hours. This way you'll get a true understanding of the scale of the issue.
Contact PCLA for free insurance claims advice and support
It's important to have the damage fully assessed by an independent water damage claims assessor. PCLA are qualified building surveyors and experts at spotting the full extent of the damage. If you don't get to the source of the problem, you could face further water damage in the future. It's vital to get everything fixed at this stage as your house insurance policy might not provide cover for future leaks caused by the original problem.
Leak detection
Ask PCLA to identify the cause of the water leak. We use the latest leak detection techniques to ensure we find the source of the problem. We know from experience that water leaks can cause thousands of pounds worth of damage if left untreated.
Do you want fast-track reinstatment for burst pipes water damage?
If you need to make a water leak insurance claim on your house insurance, contact PCLA today. Our goal is to make sure your water leak insurance claim is resolved as quickly as possible.
Why use Property Claims Loss Assessors (PCLA)?
At PCLA, we understand that the insurance claims process can be very frustrating. That's why we're here to help you. As experienced loss assessors, we will manage the entire claims process on your behalf. Our goal is to ensure you receive everything you are entitled to.
Our Loss Assessor Service includes:
First survey free of charge with no obligations.
Remember, we are appointed by we work for you!
Damage assessed within 24 hours.
We compile all costs needed, so there's no need for you to get builders estimates.
We talk to the insurance companies so you don't have to.
We will review your insurance policy and check your level of insurance cover.
We meet with the loss adjuster, so you don't have to.
No win, no fee. All money goes to you, not us!
PCLA are experienced Loss Assessors, Building Surveyors and Insurance Practitioners. We are authorised and regulated by the Financial Conduct Authority.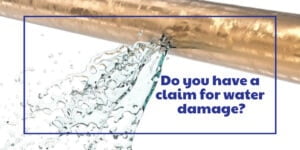 If you're unfortunate enough to experience a plumbing emergency such as a burst pipe, it's important to know if you can make a claim on your home insurance for the damage. For most people who have a home insurance policy the answer is yes, you will be able to make a claim.