Northern Ireland gets its fair share of bad weather. Wind, rain, hail and even lightning can cause serious and devastating storm damage to your home. In this article we'll answer some of the most popular storm damage insurance claim questions and explain the best way to make a claim on your home insurance.
What is a storm?
You might think you know what a storm is, but is your understanding the same as how an insurance company will define a storm?
Individual insurance companies may have different definitions of what is actually a storm, and therefore what your insurance policy covers you for.
For example: Aviva defines a storm as: "an unusual weather event with persistent high winds usually associated with rain, thunder, lightning or snow."
Other considerations include wind speed, where your property is located, and how much rain fell per hour. So while you might think you understand what a storm is, what's really important is what your insurance policy defines a storm to be.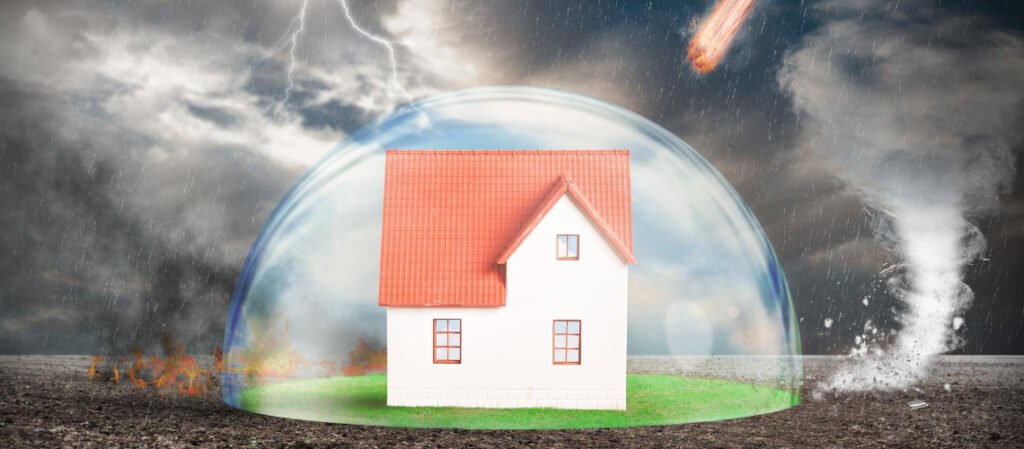 What is considered storm damage?
Insurance companies define events, situations or incidents such as damage caused by fire, water, theft or impact as 'perils'. These perils are stated in your policy document. However, they are not easy to understand and your interpretation could differ from the insurance company or indeed their loss adjuster.
If you have a buildings and contents insurance policy, you should have cover in place to protect against the 'storm damage' peril. However, how much cover or what you are protected for could vary between insurance providers and insurance policies.
In broad terms, if you suffer property damage as a result of an extreme weather event, you should be able to make an insurance claim. In Northern Ireland, storms typically cause physical damage to roofs (damage or loss of roof tiles) which can lead to further property damage from rain (a leaking roof).
If a tree is damaged by a storm and damages your home, your buildings insurance policy should provide cover. However, if a storm damages your tree and causes damage to garden furniture, it's unlikely your policy will provide cover for that.
Does your home insurance policy cover you for storm damage?
If you are in any doubt about the cause of the damage and whether you can make an insurance claim, call PCLA on 028 9581 5318 for free expert and impartial claims advice.
What do insurance companies consider to be roof damage?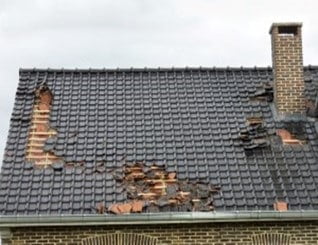 If you experience sudden or unexpected damage to your roof during a storm or extreme weather event, it is likely that your insurance policy will provide cover. This could also include emergency repairs such as fitting a tarpaulin to prevent further leaks or additional water damage.
You have to remember that insurance companies also define and measure storms in terms of wind speed. So, if you have lost roof tiles during a period of strong winds, you may be able to make a claim.
However, when inspecting your property for damage, the loss adjuster will take into consideration whether the damage was caused by the storm. They would also factor in the condition of your property and whether there are any design faults. For example, if it was discovered that roof tiles were considered to be in a poor state of repair, they may reduce the settlement offer. This is why we recommend using an independent loss assessor such as PCLA to manage your insurance claim.
What does your insurance policy cover for storm damage?
If you have both buildings insurance and contents insurance, you should have adequate cover to repair or replace items damaged by a storm.
Buildings insurance can provide cover for repairs or rebuild costs. Speak to an impartial claims specialist who can provide independent advice if you have suffered storm damage to your home. There may be extra costs for hidden damage or other emergency repairs that need to be carried out. Typically, your insurance policy will provide cover for replacement roof tiles or to repair a flat roof.
Your contents insurance should provide cover for any of your contents that have been damaged as a direct result of a storm.
What isn't covered?
You need to read your policy document, but examples include:
Loss or damage to gates or fences;
The cost of the removal of a tree or branch, unless its fall has caused damage to the building itself.
If there is no immediate risk to cause internal damage to your property or contents.
Plants or shrubs in your garden that have been destroyed during a storm.
The loss adjuster will also consider the condition of your property and make a judgement on whether the damage has been caused by a lack of maintenance.
Storm damage insurance claims can be complicated and stressful. Ask PCLA to help you make a successful claim on your home insurance.
How to make a claim for storm damage
Do you have the right insurance cover in place? It might seem obvious, but it pays to check your policy.
Insurance companies (and loss adjusters) will take into consideration when they think the damage was caused. In other words, is the damage to your home a direct result of a storm? Or is it wear and tear? They will also assess the level of damage caused and how much repairs will cost.
However, you don't have to deal with the insurance company by yourself. PCLA, have a team of qualified building surveyors who can provide a detailed report of the damage along with the estimated costs of repairs. Call PCLA today to find out how we will manage your claim for you.
Why you should ask PCLA to manage your storm damage insurance claim
PCLA are an expert team of insurance assessors who specialise in managing storm damage claims.
We maintain an accurate and up to date record of all storms in Northern Ireland.
We guarantee to provide you with a free assessment within 2 days.
We will meet with the loss adjuster on your behalf.
As independent loss assessors, PCLA have many years of experience dealing with loss adjusters and insurance companies. It's our job to speak to the insurance company and the loss adjuster on your behalf.
We will work to ensure your claim is dealt with in your best interests.
No win, No fee
We are certified insurance practitioners, authorised and regulated by the Financial Conduct Authority.
Call us today on 028 9581 5318 to find out how we can provide free storm damage advice and support to you.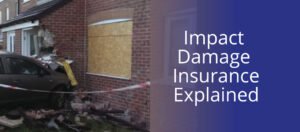 This type of insurance claim is not as common as other forms of property claims. But, if you are unlucky enough to experience impact damage to your property, it is important to know how to make a successful insurance claim.