Do you know how many electrical appliances you have at home? I bet it's more than 20. Modern homes are full of kettles, TV's, toasters, cookers, lights, heaters, PCs, washing machines and so on. This article shares electrical appliance safety tips to help you prevent accidental fires from breaking out in your home.
Why should you care about electrical appliance safety?
Your home contains many electrical appliances that could create the perfect storm for causing damage or harm. For example, devices and appliances could cause house fires or electric shocks. Even though some of these risks are small, it doesn't mean you should ignore them. These tips will help you identify and look out for any potential hazards around your home.
PCLA's top electrical appliance safety tips
Unplug
Never leave appliances plugged in when they aren't being used.
Unplugging an electrical device can help prevent a fire from starting by ensuring it's not overheating. Unplugging unused appliances will also save you money.
Avoid Water
To avoid an electric shock, never use an appliance while it's wet.
Always unplug an appliance before cleaning to avoid an electric shock.
You should be extra careful if an appliance falls into water – and please don't be tempted to touch it! You'll have to turn the power off before attempting that.
Always follow the instructions
While we all think we know how to use our gadgets, the safety manual is there for a reason. If you get new electrical equipment, please check the safety instructions – you never know what you might learn. Using an appliance for different purposes may harm the device itself or cause it to overheat and go on fire.
Look after cables
Regularly check your cables for wear and tear and signs of damage.
Always replace old power cords with new ones when they wear out. Remember: cables hidden away are more likely to get damaged and could cause an electrical fire. 
Plugs and Sockets
Always ensure your plug sockets remain in good condition. 
If there are scorch marks around the socket you may have loose wiring that needs repaired or replaced. Other signs that your sockets require attention include fuses blowing or lights flickering. 
Some older houses don't have as many sockets as modern homes require, but don't be tempted to use adapters to solve your problem. Instead, use a certified power strip with surge protection. Not only do these protect your appliances, but they can reduce the risk of electric shocks or accidental fires.
Plugs get damaged with wear and tear and may need to be replaced after several years. If the cable is frayed or there are any wires visible, you should replace the plug. Never remove the ground wire from a plug.
Electrical appliances need ventilation
We're all guilty of pushing electrical equipment into corners and shoving them against the wall. However, this reduces the circulation of air around the appliance and can lead to the appliance overheating. Any appliance that has a fan needs to be at least a foot out from the wall and the fan should be checked and cleaned regularly. This will also help to ensure that the appliance remains energy efficient.
Don't cover electric heaters or fires!
Use common sense and don't dry wet clothes over portable heaters or fires. While some fabrics in your home will be fire retardant (like sofas), clothes are combustible.
Stay safe in the kitchen
At PCLA we've managed lots of insurance claims for kitchen fires and these are the common causes of a fire in the kitchen:
Gas hob left unattended.
Never leave your hob unattended.
Clean your kitchen!
Build ups of oil and grease are a fire hazard. Regular cleaning can eliminate any potential risk of a fire in the kitchen. Remember to keep your appliances clean.
Forgetting to turn the oven off.
You'd be surprised how many fires start after someone has gone to bed and left the oven on. 
Clothes or cloth's catching fire.
Be careful around a gas hob. Loose fitting clothes or tea towels can catch fire.
Appliances overheating.
Your fridge freezer; dishwasher; washing machine and other domestic appliances can all overheat and go on fire if they are defective. Check them regularly to ensure they are functioning properly.
Make sure your smoke detectors are working.
If they beep, they are doing so for a reason. Replace the battery to ensure the smoke detector can continue to function properly.
It's important to consider all of these electrical safety tips to make sure you reduce the risks around your home.
Have you suffered fire damage and need to make a claim?
As professional loss assessors, we understand the emotional stress that comes with any house fire. It's our job to help ease the burden of your insurance claim. Find out how we can manage your fire insurance claim. Call 028 9581 5318 to speak to our expert claim's assessors and ask for free advice.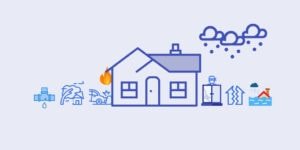 A loss assessor will manage any type of insurance claim covered by an insurance policy. In this article, we'll uncover the reasons why you should consider working with a loss assessor if you need to make an insurance claim for property damage.
Do you struggle to understand your home insurance policy? Don't worry, you're not the only one. Even though these documents are complex, they often contain standard terms that you will see throughout the document. Here's everything you need to know about the most common home insurance terms in your policy.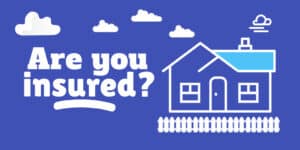 You may think your home is insured, but if your home is not insured or is underinsured, you could face a bill for property damage worth thousands of pounds.