How do I make a flood damage insurance claim?
The easiest way to make a flood damage claim is to get PCLA to do it for you. Our team manages the claims process on your behalf, so you do not have to.
PCLA will check your insurance policy documents to confirm the cover you have in place. We will undertake surveys of your property to identify the full extent of damage caused by the flooding. We can also arrange for emergency works to be undertaken such as drying of the property, removal of contents, and securing of the property.
If you appoint PCLA as soon as possible, we can start building your case and answering your questions. We will present your claim in the best way possible to ensure you receive your full entitlement under the terms of your policy.
How do flood damage claims work?
The first thing you need to do is appoint PCLA to act on your behalf. PCLA will notify your insurance company to start your claim.
Our team of professional loss assessors will handle the entire claims process for you. Our aim is to ensure your claim is handled as efficiently as possible meaning your property can be reinstated as soon as possible.
What happens when I have a flood damage claim?
After you appoint PCLA they review your policy and, if cover is in place, will contact the insurance company to notify them of the incident. The Insurer may ask for a report detailing the full extent of flood damage in or around the property, PCLA can provide this if needed.
If a Loss Adjuster is appointed by the Insurer, PCLA will liaise with them and present them with all claim details required. PCLA will meet with the Loss Adjuster on site if necessary to go over the circumstances of the loss and damage.
PCLA will compile a fully costed schedule of claim using current market rates based on the damage evidenced to the property, meaning there is no need for you to obtain builders quotations to present to your insurer. PCLA will then negotiate the best possible settlement for you under the terms of your insurance policy.
How do I make sure I get what my policy entitles me to?
Contact PCLA as soon as possible. We will assess the damage to your property, cost the works required and negotiate with your insurer. That is why, with PCLA acting on your behalf, we can ensure you get everything you are entitled to under your insurance policy.
Check your home insurance policy
Different insurance policies provide different levels of cover. Read your insurance documents to check what cover you have. You may be able to get:
flood damaged items replaced

professional help to clean up
temporary alternative accommodation if you need to move out while your home is being repaired
Your insurance policy will include an excess amount. This is the amount you must pay before the company pays a claim for damage.
PCLA can help you understand what level of insurance cover you have. PCLA will help you get everything you are entitled to under your policy.
Should you use a Loss Assessor?
Making an insurance claim can be very time consuming and often frustrating. We're here to help. As experienced loss assessors we work on your behalf to manage the entire claim process, so you don't have to, and to ensure you receive everything you are entitled to.
What to do if your home has been affected by a flood
ensure the property is safe and isolate the electrical supply if necessary
wash your hands after contact with flood water, sewage or anything these have contaminated
keep children and pets out of contaminated areas
use rubber gloves when cleaning up
use disinfectant to clean surfaces
remove excess liquid (pumping/sweeping)
undertake a thorough clean up to remove any debris or faecal contamination
leaving the contaminated areas to dry
applying a mild disinfectant
photograph all damage before and after clean up works are undertaken
Call PCLA on 028 9521 2991
Questions to ask your insurance company

Before any claim for flood damage can be settled, your insurance company will send a loss adjuster to assess the damage.
If you contact your insurance company, make sure to ask
how long it will be before the loss adjuster is able to come and survey the damage

whether the company will organise and pay for cleaning and redecorating your home

who will look after your insurance claim
Keep proof of flood damage
You'll need to record any flood damage so you can show it to the insurance company.
Don't remove or replace any damaged items without your insurance company's approval.

take photographs or a video of the flood damage

list details of all flood damage in your home

use a permanent ink pen to mark the highest level that the flood water reached on the walls of each room

list food you had to throw away because it was contaminated or has gone off
What happens if you don't fix a flood damaged property?
If left untreated the water can quickly become contaminated with sewage, potentially leaving you with a biohazard when the water subsides. This means that any porous materials in your house, such as timber or plasterwork, will hold onto bacteria and will need to be removed. If this is not remedied swiftly and correctly, it could be harmful to your health.
If your property is not fully decontaminated, stripped back and dried out completely before commencing the reinstatement works, you could create a bigger problem than you originally had with the flood.
PCLA take the stress out of making a claim, so there's no reason to delay.
Why are flood damage claims rejected?
It is important to read the terms and conditions of your insurance policy to understand what is and is not covered. PCLA have the knowledge to guide you in the best way possible through your Insurance claim.
How long does it take to settle a flood damage insurance claim?
Flood damage claims can be quite complex and specialist. They can lead to a lot of upheaval to the household with families typically having to relocate whilst works at the property are undertaken. With PCLA working on your behalf, we can take away the stress and hassle as we deal with the case from start to finish.
PCLA will liaise with your insurer and ensure your claim is dealt with promptly and fairly. All aspects of the claim are handled by PCLA and we work on your behalf to ensure the process is as seamless and stress free as possible.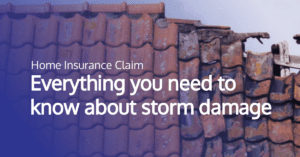 Northern Ireland gets its fair share of bad weather. Wind, rain, hail and even lightning can cause serious and devastating storm damage to your home. In this article we'll answer some of the most popular storm damage insurance claim questions and explain the best way to make a claim on your home insurance.
Do you struggle to understand your home insurance policy? Don't worry, you're not the only one. Even though these documents are complex, they often contain standard terms that you will see throughout the document. Here's everything you need to know about the most common home insurance terms in your policy.
In August 2020 storm Francis hit the UK causing a lot of damage to property throughout the country. Particularly affected was Newcastle, Co. Down.
We offer help and advice for all instances of Commercial or Domestic Property Damage. Use the links below to learn more about how a loss assessor can take the stress out of your insurance claim.