How do I make a storm damage insurance claim?
The easiest way to make a storm damage claim is to get PCLA to do it for you. Our team manages the claims process on your behalf, so you do not have to.


PCLA will check your insurance policy documents to confirm the cover you have in place. We will undertake surveys of your property to identify the full extent of damage caused by the storm.
We can also arrange for emergency works to be undertaken such as temporary repairs to the roof, drying of the property or making it secure.
If you appoint PCLA as soon as possible, we can start building your case and answering your questions. We will present your claim in the best way possible to ensure you receive your full entitlement under the terms of your policy.
How do storm damage claims work?
The first thing you need to do is appoint PCLA to act on your behalf. PCLA will notify your insurance company to start your claim. Our team of professional loss assessors will handle the entire claims process for you. Our aim is to ensure your claim is handled as efficiently as possible meaning your property can be reinstated as soon as possible.
What happens when I have a storm damage claim?
After you appoint PCLA they review your policy and, if cover is in place, will contact the insurance company to notify them of the incident. The Insurer may ask for a report detailing the full extent of storm damage and to confirm the damage has indeed been caused by a storm, PCLA can provide this if needed.
If a Loss Adjuster is appointed by the Insurer, PCLA will liaise with them and present them with all claim details required. PCLA will meet with the Loss Adjuster on site if necessary to go over the circumstances of the loss and damage. PCLA will compile a fully costed schedule of claim using current market rates based on the damage evidenced to the property, meaning there is no need for you to obtain builders quotations to present to your Insurer. PCLA will then negotiate the best possible settlement for you under the terms of your insurance policy.
How do I make sure I get what my policy entitles me to?
Contact PCLA as soon as possible. We will assess the damage to your property, cost the works required and negotiate with your insurer. That is why, with PCLA acting on your behalf, we can ensure you get everything you are entitled to under your insurance policy.
Should you use a Loss Assessor?
Making an insurance claim can be very time consuming and often frustrating. We're here to help. As experienced loss assessors we work on your behalf to manage the entire claim process, so you don't have to, and to ensure you receive everything you are entitled to.
When should I call the insurance company after I have storm damage?
You should contact PCLA as soon as possible and before you contact your insurance company. As professional loss assessors, it is our job to make sure your claim is submitted properly and as fast as possible. However, If you have already contacted your insurer, PCLA can still be appointed at any stage of the claim.
How do you deal with an insurance company after a storm incident?
PCLA take the stress out of dealing with insurance companies. It's our job to liaise with the insurance company on your behalf. We'll keep you up to date on the progress of your claim. You can contact us at any time to discuss your case.
PCLA will notify the insurer of your loss and arrange to meet with their appointed Loss Adjuster. As qualified Building Surveyors, PCLA have the skill and expertise to assess any damage that has been sustained to your property.
We compile fully costed schedules of the damage which form the basis of the claim which we use in the negotiation with your insurer. There is nothing for you to do and PCLA take away all the stress of dealing with your insurer.
Why are storm damage claims rejected?
It is important to read the terms and conditions of your insurance policy to understand what is and is not covered. PCLA's expert knowledge and experience will guide you through your Insurance claim.
The most common reason why storm damage cases are rejected is because the insurer states the damage is caused by wear and tear or that the date given to the Insurer as to when the damage occurred does not correlate with weather records showing a storm to be prevalent in the area at the time.
How long does it take to settle a storm damage insurance claim?
Storm damage claims can be complex. The insurance company will usually require a report from a qualified professional to confirm that the damage has indeed been caused by a storm.
They may ask for photographs of the damage and costings to reinstate.
However, with PCLA working on your behalf we can take away the stress and hassle and deal with the case from start to finish on your behalf.
PCLA will liaise with your Insurer and ensure your claim is dealt with promptly and fairly. All aspects of the claim are handled by PCLA and we work on your behalf to ensure the process is as seamless and stress free as possible.
Tips to deal with a storm damaged house
It is important after heavy winds and rain to check the roof of your property for any damage. Damage to the roof may not become apparent until a later date when rainwater gets into the house.
Take photos of any damage.
Arrange for temporary repairs to be undertaken to damaged roofs to secure them and prevent any water getting into the property.
Remove any ceilings that have been affected and look unstable.
Install dehumidifiers to dry out any affected areas.
Remove any contents items that could be affected and document and photograph all those that have been.
Gail Mccandless
16/10/2023
Had a substantial leak in my house and a friend recommended Jordan. Jordan was great and handled everything from start to finish with my insurance company. Would definitely recommend.
Jordan was really supportive and professional throughout the process, very knowledgeable, and always available to answer any queries we had, and he got us a great settlement
Many thanks Greg for all your help and advice with my recent insurance claim it certainly made the process less stressful
kieran mcilvenna
27/09/2023
Very efficient & quick service
I was recommended PCLA recently to handle my claim after I had a leak in my bathroom. After contacting them with the details Declan completely handled everything from start to finish. Within 3 weeks of making contact my claim was settled and funds in my account. Cannot recommend enough.
Declan provided a fast, efficient and professional response to my initial enquiry regarding making an insurance claim. He handled all subsequent dealings with my insurance company and any additional outside bodies. I would have no reservation in recommending him and his organisation to anyone.
Excellent professional service from Declan. My bathroom had a leak which caused a lot of damage, Declan called out to talk us through the process, he handled everything with the insurance company from start to finish. Declan was always reachable via telephone and kept me updated thought out the process, I was very happy with the final settlement. I would recommended!
Gerard McGrady
31/08/2023
Great experience with Gregg and Declan. Attended my problem and put words into actions immediately. Even stayed on top of me to provide information to speed up the whole process. Great outcome!
These guys were recommended to us by a friend. They looked after everything from start to finish. They were 100% professional during the entire process. Thank you.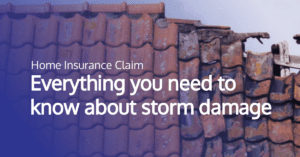 Northern Ireland gets its fair share of bad weather. Wind, rain, hail and even lightning can cause serious and devastating storm damage to your home. In this article we'll answer some of the most popular storm damage insurance claim questions and explain the best way to make a claim on your home insurance.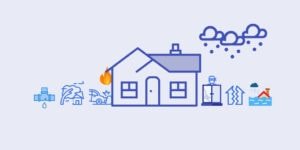 A loss assessor will manage any type of insurance claim covered by an insurance policy. In this article, we'll uncover the reasons why you should consider working with a loss assessor if you need to make an insurance claim for property damage.
In August 2020 storm Francis hit the UK causing a lot of damage to property throughout the country. Particularly affected was Newcastle, Co. Down.
We offer help and advice for all instances of Commercial or Domestic Property Damage. Use the links below to learn more about how a loss assessor can take the stress out of your insurance claim.